Oh fun oh fun oh fun!
Today I did some of my very own creating! I am learning how to use html language to create buttons for the company
Commandos
. Very cool. I'll admit, I couldn't do this on my very own and have found a fabulous blog designer, named April, who has listed various tutorials on her site. I found
April Showers Blog Design
through the lovely Ali over at
Holdenittogether
. Thank you ladies so so much!
Here are some of my creations!
This one will be good for those who would like to post on their blogs or websites.
Nice feature is that it links to the Commandos website.
Use promo code

COM-KBKb

for 10% off.
This one will be used for those doctors and physical therapist whose practice focuses on patients who experience pelvic pain conditions, like Interstitial Cystitis and Vulvodynia.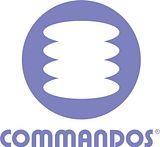 Soft cotton alternative for painful pelvic conditions.
Click above and use promo code

COM-KBK1

for 10% off.
Ok, so these took me all of a few minutes to make so I will definitely continue to play. But at least it is the start to having some more tricks up my sleeve! HA HA!